Do you have trouble breathing?

Are you experiencing a feeling of tightness in your chest?

Are you coughing a lot?
If you answered a yes to the above questions, then you might be having allergic asthma. It is advisable to seek help from the best general physician in Safdarjung in such cases.
This article discusses allergic asthma, its causes, symptoms and how can it be treated.
What is allergic asthma?
Allergic asthma is a condition where the muscles around the breathing passage become stiff. The air passing route gets inflamed and is affected by harmful mucus. A lot of people in Safdarjung are suffering from allergic asthma.
What are the common signs and symptoms of allergic asthma?
The following are the common signs and symptoms of allergic asthma-
Trouble breathing
A feeling of tightness in the chest
Frequent coughing
Wheezing
If you notice any of the above signs and symptoms, it is advisable to visit a general physician clinic in Safdarjung, New Delhi for proper treatment.
What triggers allergic asthma?
The common allergens that trigger asthma are as follows-
Animal dander
Mould
Pollen grains collected from flowers and plants
House dust mites
Worms and insects
Particles of dust
Pollution
Other allergies can also aggravate asthma and make breathing harder. The following are the details:
Air that is cold
Chemicals that have a strong odour
Perfumes and scents
Tobacco chewing and smoking
Emotions that are strong can make you laugh or cry.
Your general physician doctor in New Delhi will advise you to undergo tests to detect the allergens that trigger your asthma.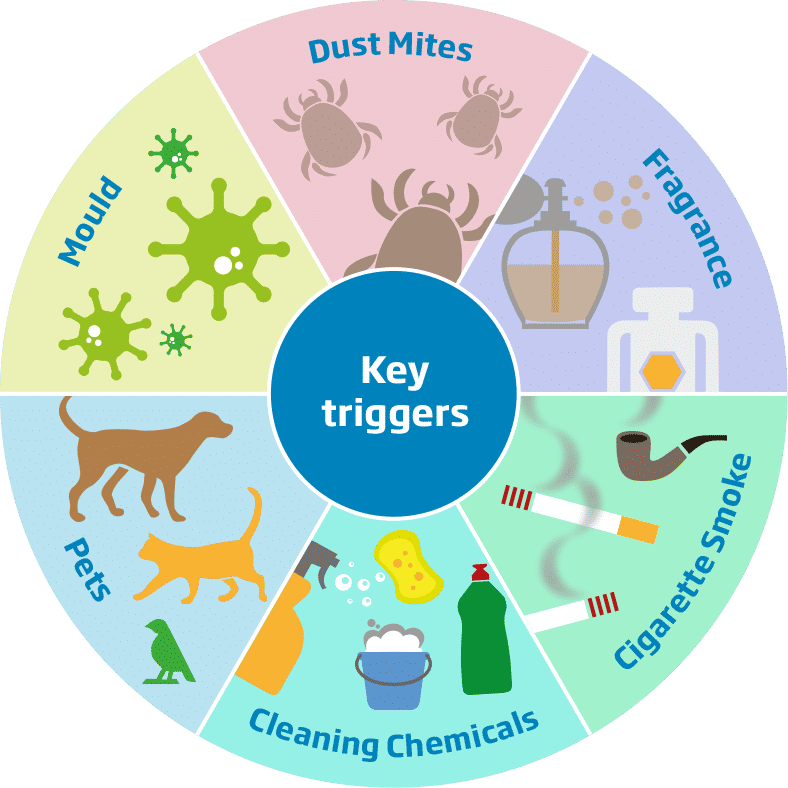 How to manage allergic asthma?
There is a key to every lock. So, don't worry! Allergic asthma can be managed. Sometimes, avoiding is better than confronting. Confronting can make things worse at times. This is true in the case of allergic asthma.
It is advisable to avoid the triggers that cause allergic asthma instead of confronting them. Confronting them can trigger asthma and make it worse. So, avoiding the triggers is the best way to manage allergic asthma.
How to avoid allergic asthma triggers?
Allergic asthma triggers can be avoided by implementing the following steps-
If the dust counts are high, stay inside as much as possible. Close all of the windows. Use your climate control system to route the air if you have one.
Wrap your cushions, bedding, and box springs in allergen-verification coverings to keep dust parasites out. Once a week, wash your linens in boiling water.
Dispose of items where residue can accumulate, such as large blinds or mounds of clothing. Purchase washable squishy toys if you have a child with unfavourably prone asthma. If at all possible, remove one end of the covering and replace it with the other.
If you have a damp problem in your house, invest in a dehumidifier. Clean up any leaks in the pipes.
Keep dogs out of the room if you have them.
To avoid mould and insects, keep your kitchen and bathroom clean.
When doing outside labour, be cautious. Dust and form can be created by cultivating and raking.
So, it is advisable to avoid the triggers if you want to avoid making the asthma problem bigger!
You can also manage and treat allergic asthma by getting treatment for it from the best general physician in Safdarjung.
Conclusion
Are you having allergic asthma?

And because of it, you are unable to breathe?
Breathing is the source of survival. No one can stop us from breathing. And the best part is, breath is one of the rare free things. But asthma doesn't allow one to breathe.
It causes difficulty in breathing. Due to allergic asthma, one is not only able to breathe air but also, they are unable to take the smell of their favourite and delicious food. They are unable to get the pleasure of these tasty smells.
Asthma makes living difficult. One is not only able to breathe air, but they are also unable to breathe happiness and joy. With oxygen, there is also a lack of happiness in their lives.
But don't worry!
It is possible to manage allergic asthma. One can manage asthma by avoiding the allergens that trigger asthma. Yes, sometimes avoiding is a better option than confronting. One can also get treatment for allergic asthma from a general physician doctor in New Delhi and get rid of breathing problems.
This will not only help them breathe the natural air without any difficulty, but they will also be able to breathe the air of happiness and joy, and enjoyment will return in their lives. They will be able to live a normal life and once again get to enjoy the smells of their favourite foods.